Waitlist Applications will be considered without regard to race, color, national origin, gender, age, marital or military status, sexual-orientation, gender identity, religion, disability, political ideology, genetic information, or any other basis protected by federal, state, or local law.
Typically, we enroll children from our waiting list. If you are interested in placing your child on our waiting list, please read the Hutch Kids Waiting List information and Enrollment Procedure.
Hutch Kids Waitlist Application Fees are non-refundable. The current waitlist application fee is $77.55.
Please note that as of 11/01/2022 all children enrolled at Hutch Kids are required to be vaccinated against Covid-19, unless they have a medical exemption.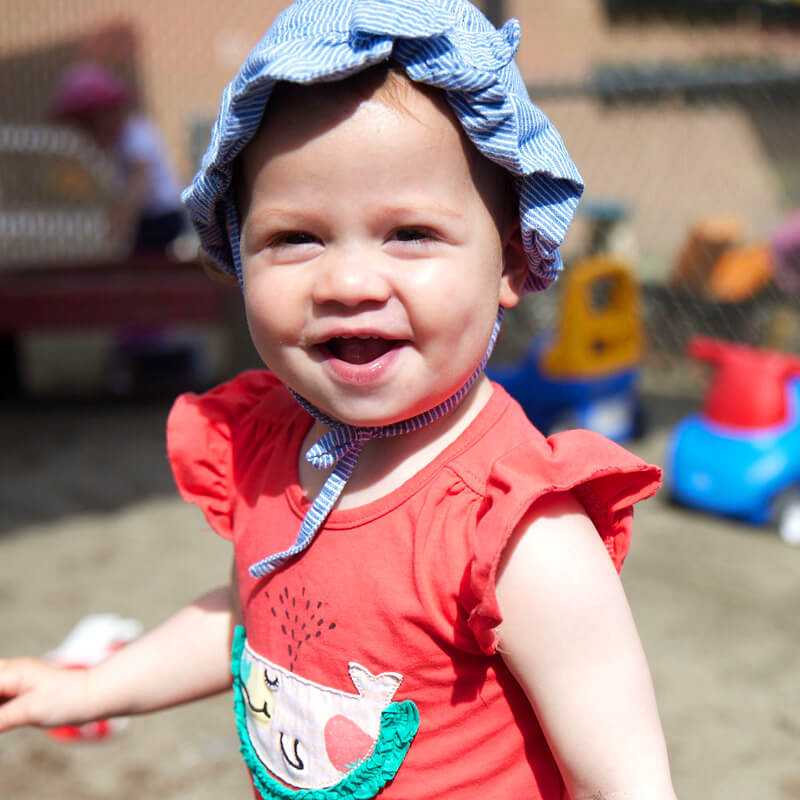 Sibling(s) of currently enrolled children at Hutch Kids
Employees of the Fred Hutchinson Cancer Center
Affiliates of the Fred Hutchinson Cancer Center: Hutch Kids, University of Washington, and Seattle Children's Hospital
Community
Tuition is set by the Board of Directors of Hutch Kids, rates are typically reviewed in April, fees for the coming fiscal year are approved in July. Tuition is based on the child's age, classroom assignment. and child to teacher ratio. Typically tuition rates change July 1.
When a family enrolls, there is a one time, non-refundable registration fee of $300. This fee is not applied to tuition, but covers the extra processing of paperwork and this is a fee, not a deposit.
The following community programs provide financial support for childcare:
Assistance for military families: Families with active military members may be eligible for assistance with childcare fees. Visit Child Care Aware of America for more information.
Best Starts for Kids childcare subsidy: Best Starts for Kids is a King County voter-approved initiative to support every baby born or child raised in King County to reach adulthood happy, healthy, safe and thriving. Starting in 2022, these investments include $20 million per year for a new child care subsidy program.
Goodwin Connections: Undergraduate and master's students are eligible for financial support from Family Connections. There are two application cycles annually, which open in April and November.
King County Veteran Student Childcare Subsidy: Child Care Resources administers a subsidy program for veteran students in partnership with the King County Veterans, Seniors, and Human Services Levy.
Seattle Childcare Assistance Program: Seattle's CCAP program helps working families, or a parent going to school, who are eligible and live within the Seattle city limits pay for child care services for children up to 13 years old. Eligibility guidelines and application information are on the Seattle CCAP website.
Snoqualmie Tribe Childcare and Development Fund: This program is open to all Native American families that meet eligibility criteria and provides financial support for childcare and early learning services. Eligibility and application information is available on the Snoqualmie Tribe website.
Washington State Working Connections Childcare Subsidy: Financial assistance is available for eligible families while they work, look for work, or go to school. When a family qualifies for childcare subsidy benefits and chooses an eligible provider, the state pays a portion of the cost of childcare. Parents may be responsible for a copayment to their provider each month. More information and eligibility requirements can be found here. Visit Washington Connection to apply.
Enrollment & Waitlist FAQs
Please Note: Infants born between October and June will not be eligible for enrollment until the following school year starting in July because they will not fit within the age ranges of the current infant classrooms. For example, a child born in November 2025 will not be eligible for a spot at Hutch Kids until July 2026.